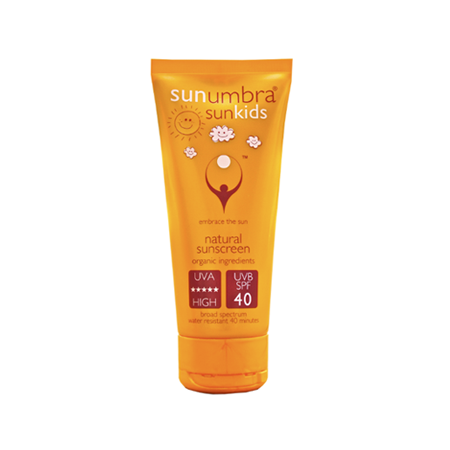 100 ml
This sunscreen was developed from the 'Classic' sunscreen, increasing the protection provided with extra zinc oxide for increased UVA and UVB protection, plus the addition of the extraordinarily powerful antioxidant astaxanthin. It still contains our unique combination of plant extracts as the key 'hidden secret' to being able to substitute the harmful chemical filters found in almost all sunscreens sold today.
The paragraph above spells out what makes our sunscreen formulas truly unique.

A study by the Environmental Working Group revealed that less than 20% of sunscreens were both 'low hazard' and 'effective'. This was largely because the other 80% contained potentially harmful chemicals...
Key features of the Sunumbra P Sunkids SPF40
▪ Protects against UVA and UVB light at the highest level
▪ Contains natural, organic, photo-protective botanicals
▪ Contains the powerful anti-radiation properties of zinc oxide
▪ No harmful chemicals
▪ Dermatologically tested and approved
▪ Specially formulated for children and people with sensitive skin
▪ A tinted sunscreen using natural botanicals containing pigments
▪ Tested on human skin only, not animals
▪ PH in balance with children's skin
▪ Can be used by anyone with a dietary or environmental concern
Click here for more product information.
Related Products
---