News
Though Sage and Clary Sage share the Latin name Salvia, it turns out they are quite different. Each have varying constituents, therapeutic properties and aromas. These large differences mean they cannot be substituted for one another in recipes and usage. Each oil has its therapeutic strengths, and should thus be used accordingly with safety in mind. Sage, or Common Sage, is a potent essential oil composed primarily of ketones, while Clary Sage is mostly composed of esters. Let's examine what this means and how this makes them so different. SAGEOrigin: Greece Sage Properties: AntibacterialAnti-inflammatoryDigestive aidCelluliteSupports hair growthReduces overactive sweat glands Aroma: Sage...
---
"Dr. Hauschka Night Care is oil-free and packed with stimuli –
making it as full of vitality as its basic element: water." ~ Annette Greco,
Head of Product Development At night, your skin flourishes when offered water-based night care products like Night Serum that allow skin to breathe freely, regenerate and revitalize. Dr. Hauschka Skin Care recommends only water-based preparations at night so the skin´s important night-time processes can function properly without becoming dependent upon product. Here are a few steps to ensure an effective night care ritual that will allow the skin to breath and renew: Step 1 : CLEANSE Removes dirt and...
---
Is it genetic? Too much coffee? Insufficient water intake? Intolerance to carbohydrates that results in water retention? Too many saturated fats and unhealthy foods? Contributing factors for cellulite include age, gender, hormones, genetics, inactivity and stress. Women are more prone to cellulite because of hormones and the tendency to store excess fat in the hip and thigh areas.  Healthy eating, plenty of green leafy vegetables and still water with a pH of 7 or higher is a good start. Yoga can improve your physical health. Improved muscle tone and decreased fat contribute to the reduction of cellulite when combined with...
---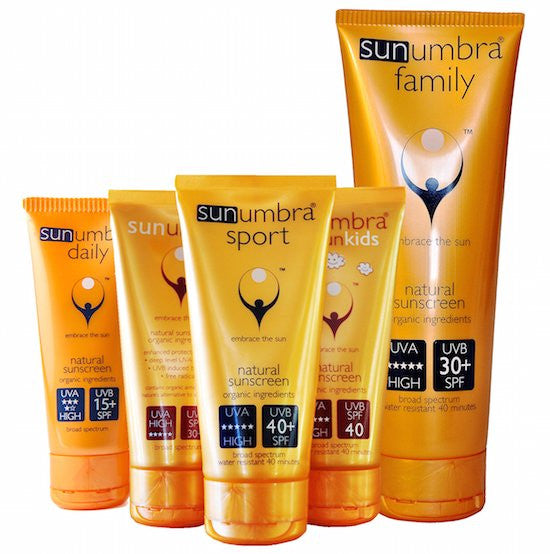 Be Organic has added the Sunumbra Natural and Organic Sunscreen range to our online product selection. This chemical free sunscreen has been developed and manufactured in South Africa 
using plant extracts. The discovery of a unique combination of plant extracts is the key 'hidden secret' to being able to substitute the harmful chemical filters found in almost all sunscreens sold today, with these wonderful botanicals. We have 5 products to choose from. Besides being free of any toxic chemicals, all of them have the highest UVA protection, are Vegan, Gluten Free and Cruelty Free, but each contain other qualities. Sunumbra P Classic SPF 30+...
---
Whether you have a garden, balcony or only a windowsill, by following these simple guidelines you can have a herb garden bursting with flavour and fragrance. Some herbs (like basil, chives, lemongrass, parsley and thyme) do best when they are bought as seeds. It's best to buy other herbs like mint, rosemary and tarragon as actual plants. Check with your local nursery, if you are unsure. Location is the key to a successful herb garden. Most herbs grow best in full sun, but partial shade will often do. Herbs need as much sun as possible in order to reach their full...